Last updated:
20th November 2023
Sailing Weeks Holiday Clubs
Splash into action with a series of water based activities at the Dinton Activity Centre.
Image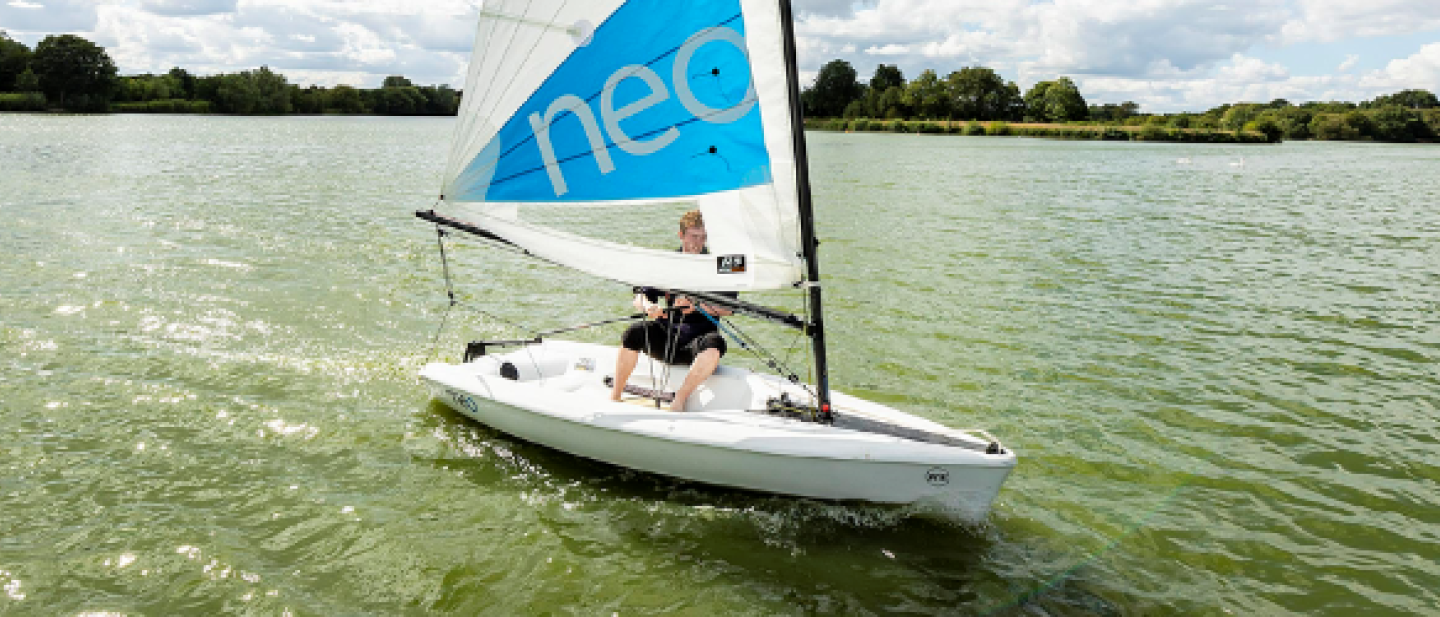 These activities are a great opportunity to keep fit, make new friends and develop water confidence.  
No prior experience or qualifications needed for most activities

Helmets and buoyancy aids provided
Car parking free 15min drop off
We can't always guarantee that the programme won't change, sometimes at very short notice, due to matters outside of our control. We will be running the below activities for ages 8+.
 Before you visit Booking Terms and Conditions 
Wondering which course is right for you or what's next? It's as simple as following the routes below to sailing excelence.
Image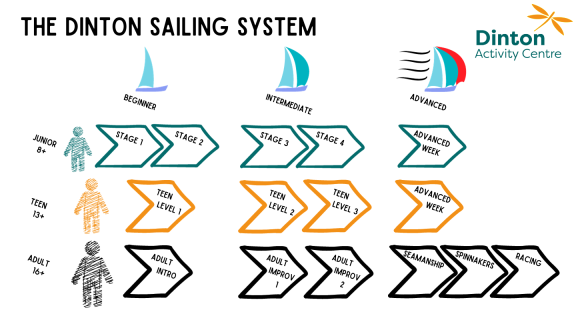 Junior Sailing Weeks
£300 week | Ages 8-13 | 9:30-4:30 | 4-day or 5-day course | School Holidays 
We are running our full RYA Junior Sailing Program from Stages 1 to 4 including advanced modules.
Progress through the Royal Yachting Association (RYA) Youth Sailing Scheme. Over these weeks progress through the syllabus to work up from a beginner level to more advanced techniques and bigger boats.
Book Junior Sailing Stage 1 Book Junior Sailing Stage 2 Book Junior Sailing Stage 3 Book Junior Sailing Stage 4 
After this you can progress onto the advanced course. Scroll down to find out more.
Teen Sailing Weeks
£300 week | Ages 13-17 | 10.00am – 4.30pm | 4-day or 5-day course | School Holidays
This course is specifically focused towards sailing for teenagers. Participants will work towards the RYA National Sailing Scheme, covering Level 1 or Level 2 on alternate weeks.
Book Teen Sailing Week Level 1 Book Teen Sailing Week Level 2 
Advanced Dinghy Sailing courses
Teen/Junior
£300 Week | Age 13+ | 10:00am-5pm | Monday - Friday
This course is designed to give you a start into the world of seamanship skills and spinnaker sailing. Guiding you through everything from anchoring to rigging a spinnaker and how to use it out on the water. Ideal for those looking to get some extra speed and power out of their boat. Age 13+. Prerequisites: RYA Level 2 or 3 or equivalent experience.
Paying by Childcare Vouchers
For more information and a full list of accepted child care voucher providers, please read the Childcare Voucher document (PDF). In it are all the codes you need to link your childcare vouchers to us.
Discounts
We know that keeping your children and teenagers active and entertained can get expensive. We offer a range of discounts to make booking with us more affordable. These are automatically applied when you pay.
Save 10% when you book 2 or more participants onto the same junior course