Last updated:
27th November 2023
Sandford Country Park (Loddon Countryside Amenity Area)
Image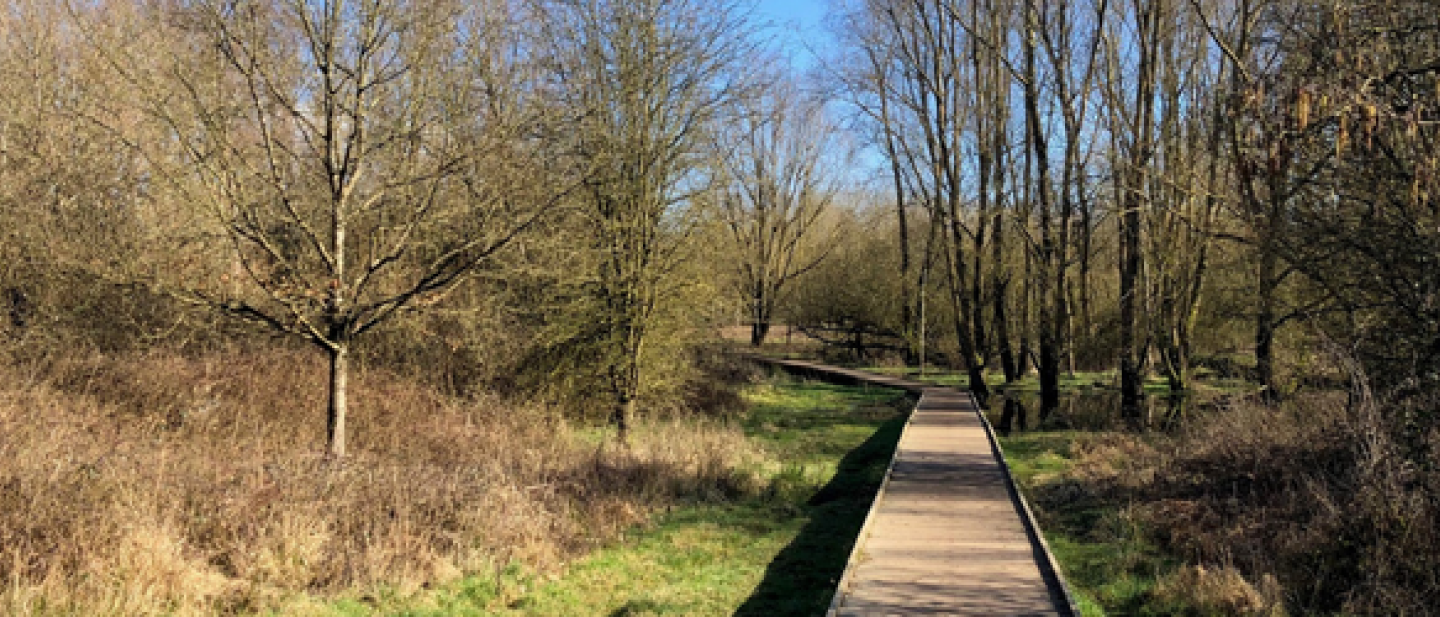 About Sandford Country Park 
Sandford Country Park, formerly a mineral extraction site that was subsequently land filled, lies within a semi-rural location on the eastern edge of Woodley. It occupies approximately 25.5ha of land, bounded on two sides by the River Loddon and Old River. 
The site boast an abundance of wet grassland, wildflower-rich meadow pasture, recent woodland plantations, ponds (former lagoons), ditches and reedbed. These features provide optimum habitat for a range of protected and notable species, including badgers, bats, birds (including hunting barn owls), reptiles such as grass snakes, and amphibians (including common frogs, common toads, and smooth newts).
Parking Facilities
There is no car park for Sandford Country Park. Pedestrian access is from Snowdrop Gardens and The Beeches, RG5 4TE.
Accessibility
The majority of the footpaths are rough-surfaced or wooden boardwalk with access ramps, making it wheelchair accessible across most of the site. However, some areas do not have hard-surfacing, and can become very wet and muddy in wetter months.
Site Considerations
Please help us to keep the site clean, tidy and safe by following these rules:
Please pick up after your dog and make use of the bins on site, or take it home with you. You can be fined up to £1000 for not picking up after your dog.
Please keep dogs under control.
Please take litter home or use the bins provided. 
No fires or BBQs to be had on site.
No drones or metal detectors to be used on the site.
No camping/sleeping on site.
Cyclists, please follow the code of conduct:
Give way to pedestrians and wheelchair users.
Be courteous and patient with pedestrians and other path users who are moving more slowly than you – shared paths are for sharing, not speeding.
Slow down as needed when space is limited or if you cannot see clearly ahead.
Be particularly careful at junctions, bends, entrances onto the path, or any other 'blind spots' where people (including children) could appear in front of you without warning.
Carry a bell and use it or an audible greeting – avoid surprising people.
However, don't assume people can see or hear you – remember that many people are hard of hearing or visually impaired.
In dull and dark weather make sure you have lights so you can be seen.
Please report any issues such as vandalism, fallen trees blocking paths, or damaged furniture to the countryside service on 0118 934 2016, or email countryside@wokingham.gov.uk
Map