Last updated:
23rd November 2023
Wild Days Holiday Club
Our Wild days holiday club is suitable for ages 8 to 13 years and runs from Monday to Friday.
Image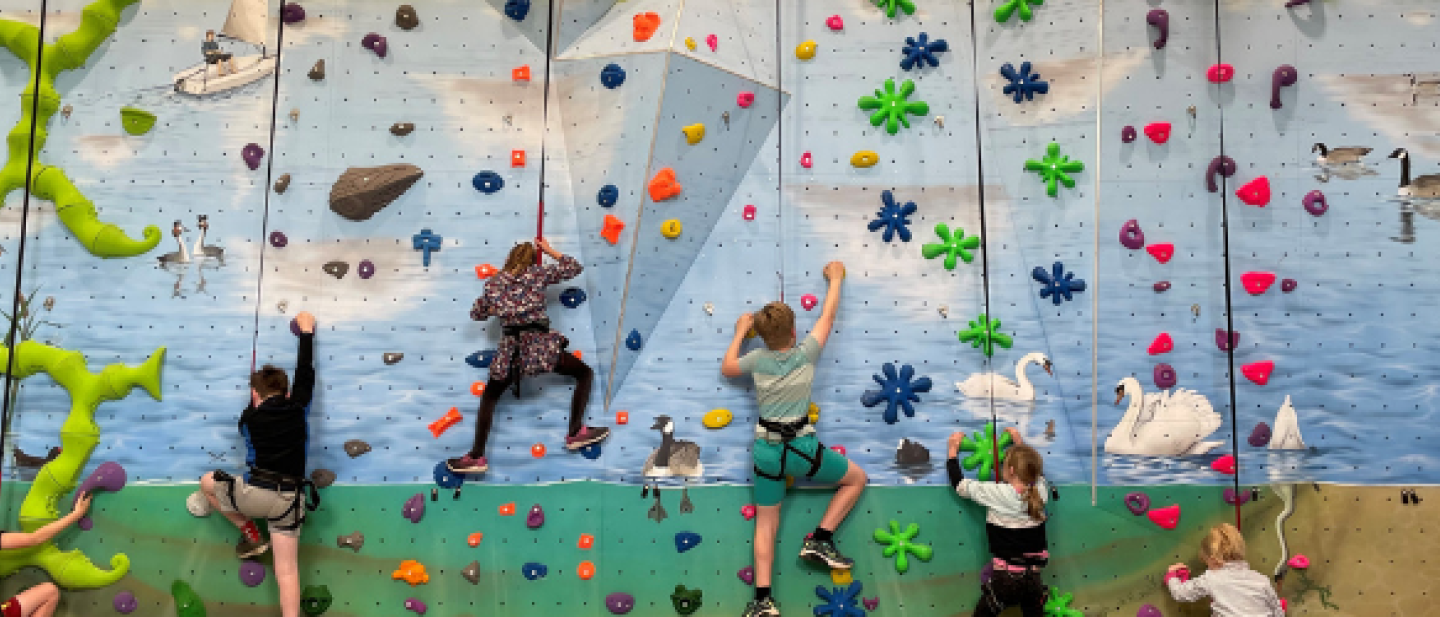 Come and join us on one of our exciting Wild Sessions this school holiday!
These take place every morning and afternoon, Monday to Friday during the school holidays (excluding Bank Holidays).
£32 per session | Suitable for ages 8 -13 | Morning session runs 9:30 -12:30 or Afternoon session runs 13:30 - 16:30 | Monday to Friday | Free lunch cover 
We are running four activities per day, two per session, to give your youngsters a range of different adventurous sports. So please check the programme below to ensure you book your required activities. Our activities include water sports, such as stand-up paddle boarding, kayaking or giant SUPs on the beautiful Black Swan Lake. These will be running alongside our land activities to challenge yourself and aim high including climbing or test your Bear Grylls skills on our Survival session! Whatever the activity we will deliver a fun and safe session to keep your young people entertained.
The sessions in the morning are different to those in the afternoon so you can book a whole day, with lunch cover provided, if you wish.
Book your session
Seasonal sessions
At certain times we may need to change the activity on the day due to adverse weather conditions. In such occurrences we will not be able to offer refunds but instead, will adapt the activities for the conditions, and still deliver a fun activity session for your children.
What to bring
Spare change of clothes - including shoes, they will get wet if going on the water, or muddy if going into the woodland.
Coat for wet weather.
Sun-cream and a sun-hat for hot weather.
Thick coat, hat and gloves for cold weather.
Shorts and T-Shirt for going on the water (wetsuits are available).
Snacks and a drink.
Towel.
Bin bag to put muddy/wet stuff in at the end of the day.
If your child is staying the whole day, please provide a packed lunch (without peanuts). There will not be enough time to buy lunch in the café.
We provide all the safety equipment and wetsuits but if you have your own wetsuit you are welcome to bring it.
Read the Before You Visit page for further information.
Paying by Childcare Vouchers
For more information and a full list of accepted child care voucher providers, please read the Childcare Voucher document (PDF). In it are all the codes you need to link your childcare vouchers to us.
The Activities Explained!
Stand-up Paddleboarding 
Stand up and paddle on our inflatable boards, good for balance and core strength!
Giant Paddle Boarding 
A great way to work on your teamwork and communication, with 8 people paddling together on one giant paddleboard.
Kayaking 
A traditional method of paddling using double bladed paddles. We have a choice of single or double kayaks available for you to enjoy. These manoeuvrable craft make it easy for high octane games and races.
Canoeing 
Traditional Canadian style paddling with open canoes using single bladed paddles and working in pairs. These are slower pace making for calm and tranquil trips round the lake.
Water Olympics
A fun session full of competitions and games both on and off the water.
Raft building 
Work as a team to build a raft out of barrels and poles before testing your knot work as you float the raft on the lake.
Climbing 
Our outdoor climbing tower and our new indoor climbing wall will test your nerve for heights!
Leap of Faith 
A chance to challenge your fears with a leap into the unknown to catch our trapeze at height!
Crate stacking 
Reach new heights with your team-mate by building your own tower to climb out of crates! How high will you get?
Jacobs Ladder 
Work together to help each other climb the ever-widening rungs on the ladder, you might need to climb up each other to achieve this tricky challenge!
All Aboard 
A test of trust, nerve and teamwork. Can you reach the top of the telegraph pole with a platform just big enough for four people to stand, and lean back?
Archery 
Will you strike gold? Test your hand-eye co-ordination with this fun sport.
Survival Skills 
Will your team survive our woodland challenges? Light fires, filter water and build yourself a shelter before the 'storm' comes! You will be rewarded with a sugary treat!
Don't forget, if you book a morning and afternoon session we will look after your child during lunchtime. There is no need to pick them up and bring them back.